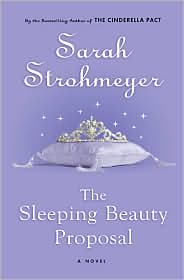 From back of book:
"Genie Michaels's commitment-phobic boyfriend is finally proposing. On national television. To the woman he's been seeing on the side. It's a major wake-up call for a girl who's hit the snooze button a few too many times . . .
But no names are mentioned on the broadcast, and Genie finds herself flooded with presents and congratulations. It's up to her to explain the mistake, but sometimes waking up is hard to do.
Even as her parents start planning the reception, she can't help enjoying herself. Why call off the so-called engagement just yet? It's fun to play princess. But unless the prince shows up -- and soon -- this dream could start getting weird . . ."
I had this book listed under the Fairy Tales genre because of the title, but it is pure chick lit. I do like the opening paragraph:
"If you ask me, the best part about the Sleeping Beauty fairy tale is that she didn't have to do anything to get a man. She just lay around for a hundred years. And one day, a cute guy with lots of ambition and extra time on his hands rode up on an expensive horse, hacked through a bunch of brambles, ran upstairs, and kissed her. Voilà ! Instant husband."
And after the proposal, Genie's best friend claims she is like Sleeping Beauty, waiting around in a coma for something to happen. I like that Genie finally does something besides waiting; but the whole experience is like waiting for a train wreck to happen. Which is what makes the book so funny. The best friend is such a great character, egging Genie on to do things she would never have dared to do before. This is one of the better check lit books I have read, no profanity and the sex is more understated. Maybe not quite as funny as Sophie Kinsella's books, but just as fun to read. Just the thing for a light, easy read.
Rating: 3.75