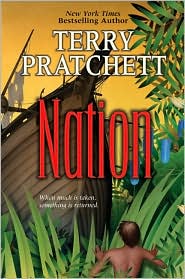 It was a struggle but I finally figured out how to download a book to my new Walkman. It was the perfect time to listen to
Nation
while I put my new Adirondack chairs together. Except for the fact that the sound of the drill drowned out some of the action, but I think I followed everything pretty well. Ermintrude is on a ship to meet her father where he is the governor on some out-of-the-way island. She is glad to be away from her domineering grandmother who believes she must behave as one who is 139 places away from the throne of England. Who would have believed that the plague would hit the country and wipe out 137 of the top royals, leaving Ermintrude's father as the next king. She doesn't know any of this when her ship is hit by a tidal wave and heaved onto a unknown tropical island, leaving only Ermintrude.
Mau is canoeing back to his island after performing his manhood tasks and looking forward to the rites that will make him officially a man when the wave hits. He survives only to find that everyone in his Nation has been killed by the wave. He finds Ermintrude who intorduces herself as Daphne (smart choice) and they begin to learn to communicate. Soon other refugees make their way to the island, and Mau makes himself responsible for them.
This is a great coming-of-age story of the two teenagers, but also a tongue-in-cheek look at politics, religion, customs and even race. The humor is not as laugh-out-loud as in the Discworld books, but definitely still there. The story of Mau trying to milk a nursing pig to get milk for an infant was hilarious. As always, Pratchett fills his book with great characters and interesting situations. And as always, I enjoyed this book. I wished I had paid a little better attention to the audio because I'm sure I missed some of the story. I may just have to listen again.
Rating: 4.25