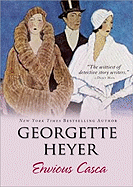 The first Heyer book I read,
Why Shoot a Butler
, was so much fun to read. It was set in the twenties in England amid an upperclass group with a good-looking, sarcastic leading man who solves the mystery and falls in love. I really enjoyed it. So
Envious Casca
was quite a disapppointment to me. It likewise takes place in Enland 1920's with uppclass characters. The problem is the characters are snobby and unlikeable. They mystery was too easy to figure out. After the murder, the local police come with a detective who is not sympathetic or incredibly smart, but competent. Eventually, Scotland Yard is called in and the Chief Inspector finally solves the case. The problem is that the reader doesn't even connect with the sleuth because the solution is divided up between the two detectives. There is a slight romance at the end which was satisfying but entirely predictable. I don't know if I will read any more Heyer books if this is a true example of her work. Any recommendations??
Rating: 2.75